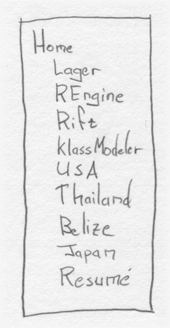 Welcome to my home page. This is one of a slowly growing list of web sites. The others are mostly geeky in nature, so if that kind of thing is interesting to you, please have a look:
www.RiftSpace.net - This is the next step in the Rift development listed to the left. You can find the current release as well as screen shots and a technical blog.
www.KlassModeler.net - My cross platform, open source class modeling tool. Again, it's listed to the left, but this is the dedicated web page for it.
My Blog - Where my more recent stories are told. Mostly just daily life in New Zealand and Japan.

The rest of the page is either more personal, or less recent. Here's a brief description of what I have here:
Lager - A (cleverly named) logging tool.
REngine - My very own video game engine.
Rift - My very own video game built on my very own video game engine.
KlassModeler - Nerdy tool for helping me design my very own video game and engine.
USA - I rode across the States with a friend. He took pictures.
Thailand - Love me long time? Oh yes.
Belize - Watch me get my lumber on for the glory of the Lord.
Japan - More Japanese people then you can possible imagine.
Resume - Out of date but kept online to make my boss nervous (or hopeful).
I hope you find something of interest.